From Michelle, 3 August, 2010  10 a.m.
Dear friends and family,
I realized this morning that it has been a long time since I gave a more specific update about Steve's physical condition.  This is difficult as we continue to move at a seemingly snail's pace, yet in the right direction.  I never know how optimistic to be as I paint the medical picture without the medical expertise.
The good news is, Steve is more and more able to move his legs against gravity.  These are tiny increments of progress, however.  For example, this morning, with extreme effort, Steve was able to lift his knee off the bed, but by the third repetition of the exercise his muscle was entirely finished.  It also means that with great effort Steve can move his foot several millimeters in his wheelchair foot mount.
Steve's fingers bend slightly more, but he still does not have the strength to meaningfully pinch something of any significant weight in order to lift it, a skill he is practicing in order to self catheterize himself, which will give him a little bit more independence.  He is also unable to fully straighten them or wiggle them with any ease.
This morning the physical therapist asked Steve to close his eyes and determine whether she was bending his big toes up, middle or down, which he was only able to do with intermittent success.
Steve's right shoulder, the site of a former tennis injury, has been giving him trouble, slowing down his upper body exercises, which he needs to practice balancing sitting up, learning to roll himself over, and ultimately to work on transitioning himself from his wheelchair to his bed.
Steve has done several interesting exercises that we hope will assist his progress.  He has tried a special bicycle that assists him in peddling, prompting his muscles when they tire with electrical impulses.  It was a beautiful thing to watch his legs move, even with assistance.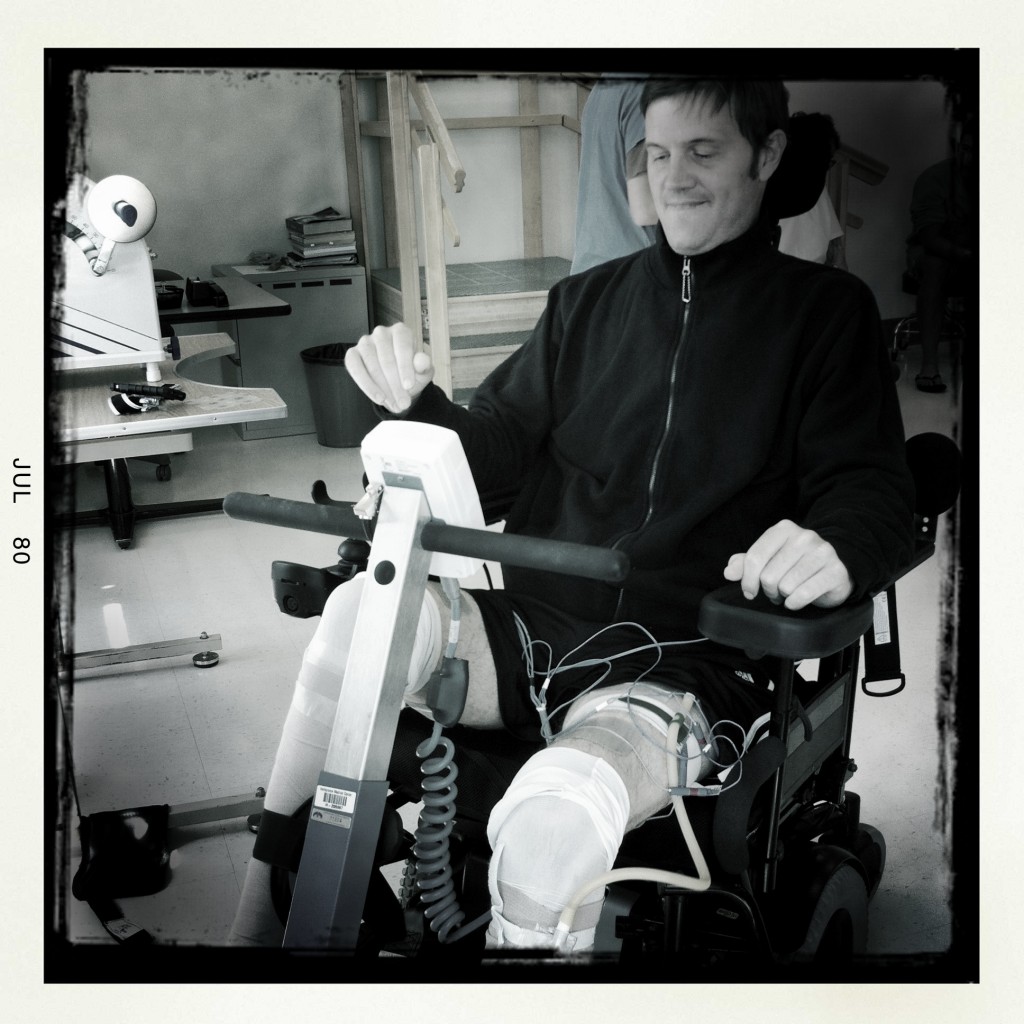 Steve also stood up for the first time.  By this I do not mean that he was able to propel his body upward to standing, but that with the help of a machine, he was able to straighten out his trunk while his legs were held up in a straight position.  His blood pressure dropped quickly, however, so he was forced to return to the chair.  The feeling of standing upright, however brief, was exhilarating, and we pray that he will be able to enjoy the position for longer next time.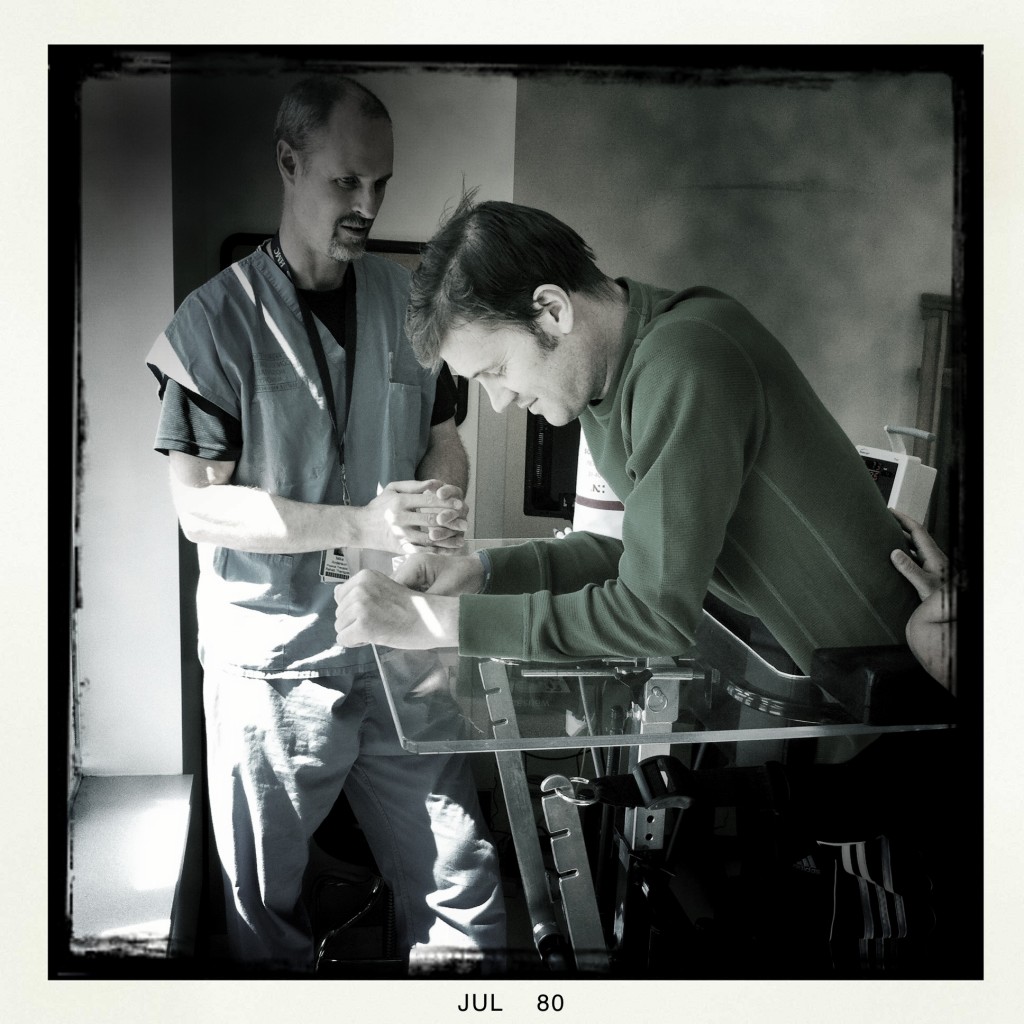 Yesterday Steve had more spasms than normal, his legs felt heavy and he was tired.  We decided to transition to bed early and he had one of his first naps in a very long time.  This morning he feels a bit better.
Please pray for patience and endurance for Steve as he continues to press on with faith and determination, but with occasional set backs.  Please pray boldly with me that his shoulder heals, that his body continues to show encouraging signs of progress and that his spirits would remain high.  Steve also asks for specific prayers that his bladder and bowel control would return.  The doctors are discussing removing his catheter this weekend to see what bladder control he might have.  This could either be highly encouraging or extremely discouraging depending on the outcome.  Steve will also be trying his manual wheelchair for the second time today if his shoulder holds out.  Please pray that he is able to achieve this goal.  Please also pray that I would support him well.  We are moving this week, preparing to sell our home next week and packing up in Manila, among other things, so I am unusually stretched.
Nevertheless, we rejoice in the overwhelming blessings surrounding us, not the least of which is your prayers and support!  We taste and see that the Lord is good, especially through your wonderful messages and many practical acts of support.  Thank you, thank you, thank you!  We continue to be amazed by our furnished home, the food that magically arrives on our doorstep, the people driving extra hours (in Seattle traffic!) to pick up our children for day camps and play dates, the help with moving on both sides of the world, the cards that show up every day at the hospital, the many posts (I read every one!), the amazing financial generosity, and the beautiful prayers lifted up on our behalf.  We are literally overwhelmed with goodness!
My verse for today comes from Romans 12:12: "Rejoice in hope, be patient in tribulation, be constant in prayer."
Love,
Michelle
P.S.  I cannot resist adding a photo of our boys, our three living, breathing reasons to persist and endure!