Advent 2015
Dear friends and family,
Every year, a different part of the Christmas story resonates.  This year, the wise men make their journey through my mind.  Along with their three gifts for Jesus, they bring a question, gentle but insistent: how are you seeking Jesus, Michelle?  I think about their travels; the foreign landscape, the hardships, the faith that had them seek after a single distant star and a newborn king.  Tradition suggests there were three but there may have been more.  We know that they likely arrived six months to two years after the actual birth of Jesus.  If they came from Persia, or modern day Iran, as some suggest, they traveled 800-900 miles to find this king.
I envy them the singularity of their focus.  While I have dozens of lists to maintain and items to purchase, they only sought one thing.  In the drudgery of their long distance journey, there were hours of silence, plodding through the Middle Eastern landscape, sleeping under the stars.  Returning from the mall, or wrapping gifts with Christmas music playing in the background, it is difficult to imagine anticipating the arrival of Jesus this way, far from familiar people and places, away from the distractions of daily life.
The wise men brought three gifts.  But they spent most of advent anticipating an encounter, and doing the work necessary to find what they sought.  They searched without any certainty of what they would find.  They traveled into unknown territory trusting what they knew of the stars and little more.  They traveled under the umbrella of creation, believing there was purpose behind its design.  They followed a star.
While we have made Christmas into a celebration of the familiar, the wise men embraced what was different.  While we surround ourselves with loved ones and time-honored traditions, they left what they knew to find the one that they sought.  My soul is convicted by their sense of purpose.  As I imagine them along the way, I imagine dust and sweat, and wonder what it has cost me, this Christmas, to find the babe.  What gifts have I traveled to bring him?  In what ways have I labored to find him?  When have I paused to think not of my loved ones, but of the source of love himself?  When my focus has gone awry, as it often has this season, the wise men cross my mind.  I imagine an empty and arid landscape, the rhythmic lope of camels and feet, and a star, and my spirit quiets as it seeks.  Like the wise men, may you seek and find this season.
Here are a few highlights from our year: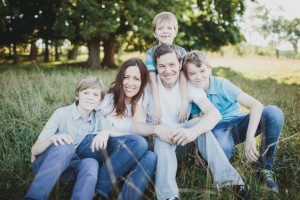 From all of us to you and yours, we wish you a very Merry Christmas and happy holiday!
With love from the Ruetschles,
Steve, Michelle, Aidan (14), Jude (12) and Zephyr (7)