And there were shepherds living out in the fields nearby, keeping watch over their flocks at night.  An angel of the Lord appeared to them, and the glory of the Lord shone around them, and they were terrified. But the angel said to them, "Do not be afraid. I bring you good news that will cause great joy for all the people.Today in the town of David a Savior has been born to you; he is the Messiah, the Lord.  This will be a sign to you: You will find a baby wrapped in cloths and lying in a manger."
Suddenly a great company of the heavenly host appeared with the angel, praising God and saying,
"Glory to God in the highest heaven,
and on earth peace to those on whom his favor rests."
When the angels had left them and gone into heaven, the shepherds said to one another, "Let's go to Bethlehem and see this thing that has happened, which the Lord has told us about."
 So they hurried off and found Mary and Joseph, and the baby, who was lying in the manger. When they had seen him, they spread the word concerning what had been told them about this child,and all who heard it were amazed at what the shepherds said to them. … The shepherds returned, glorifying and praising God for all the things they had heard and seen, which were just as they had been told. – Luke 2:8-20
Christmas has caught me off guard this year.  That might surprise some of you, given that Christmas carols are played in the malls here beginning September 1st and most homes are thoroughly dressed in trees and decorations by the beginning of November at the latest.  No doubt, there is plenty of time in the Philippines to get used to the idea that Christmas is coming.  Yet while our tree has been up for some time, and at least some of the gifts have long been purchased, it is the awareness of Christmas that has eluded me.
It can be difficult to find the humble manger and its young and homeless occupants amidst all of the festivities and shopping lists.  The more extensive and elaborate the season, the harder it is find the simple revelation at its heart.  The early church approached it differently.  Advent was a more somber occasion, a time of intermittent fasting, of waiting and reflection.  The feast was limited to Christmas day itself and gifts were sparse, reserved more for one's superiors than for one's children.  Now the feasting has extended itself into the furthest corners of Advent.  With all of the preparations and the parties that crowd every remaining space in our calendars, there is little time to reflect or wait quietly for the coming birth.
We tie our gift giving tradition and the opulence of our celebrations to the gifts brought by the magi, but contrary to the nativity scene prominently displayed in my living room, they did not show up until at least forty days and possibly even a year or more after Jesus' birth.  Those present on that miraculous, world-changing night were Joseph, Mary and, eventually, a straggly group of shepherds who had most likely been living outdoors with their sheep for weeks.  Among them there may also have been a few assorted animals in whose manger the baby had been laid.
When I think upon that scene, it is no wonder that the babe has been hard to find.  It is not easy to reconcile that spare nativity with the glinting lights and fancy baubles on my tree, with the rich foods already accumulating in my pantry, and with the gifts waiting to be wrapped and placed under the tree.  Paging through the beginning of the gospel of Luke, I searched beneath these convoluted pageantries for a truer approach.  The shepherds caught my eye.  They are not mentioned in Matthew's account of the birth of Jesus.  Only in Luke are we told of the angel's appearance, of his detailed announcement and the multitude of heavenly hosts that filled the darkened hillside with praise and glory.  I was moved to think that such an ostentatious heavenly display was afforded a handful of men at the bottom of the social ladder, wearily minding their sheep on a cold, dark night outside a small, inconsequential town in the middle east.
While royalty came from distant lands to eventually pay him homage, the first and most brazen display of splendor was saved for people who were merely minding their own business, working late; an unholy and unremarkable group.  Even more striking, the object of all of that majesty and brilliance was a mere newborn babe resting in a trough normally reserved for feeding animals, a young carpenter's son.  Perhaps the shepherds were uniquely suited to receive such a humble king.  Accustomed to their own modest lifestyle, they would not have been deterred by the plain setting in which the babe was found.  With nothing to offer and no vocabulary of royal deference or holy unctuousness to bring, they would not have obscured the moment with pomp and circumstance.  Nor would they have brought aspirations for power, intellectual evaluations or theological obscurities to further obfuscate the scene.
I cannot say what attitude they did bring, except that they were so moved that they had to tell everyone about him. That is the last we hear of the shepherds.  No doubt they continued tending sheep, minding their own business, working late.  We hope and imagine that the encounter changed them forever.  Still, life carried on.  Yet somehow, the God we worship found them a worthwhile witness.  He spent lavishly, sending His holy emissary, writing His glory across the night where they stood.  Later, the babe would spend Himself extravagantly on their behalf in a very different way, a seemingly humble and unremarkable way, with echoes of the stable.
The first Christmas occurred in a humble stable in Palestine, without gifts and without people of any social merit.  I am not against gifts or celebrations. But this Christmas, none of those things have brought Jesus any closer to me. It is the shepherds that strike a chord. I am comforted that I serve a God who spends His glory so liberally upon those who are neither seeking him nor particularly deserving of His gift. I remember that though my social status and my degrees and my possessions might say otherwise, I too have nothing of true worth to offer my King. Thankfully, He neither wants nor requires those things from me. Setting aside my modern Christmas trappings, I imagine myself in the stable. My hands are empty, my feet dirty.  I have no gifts to bring.  I bring instead my wonder. I tell the story.  I receive the gift.
May you also know wonder this season.  With love,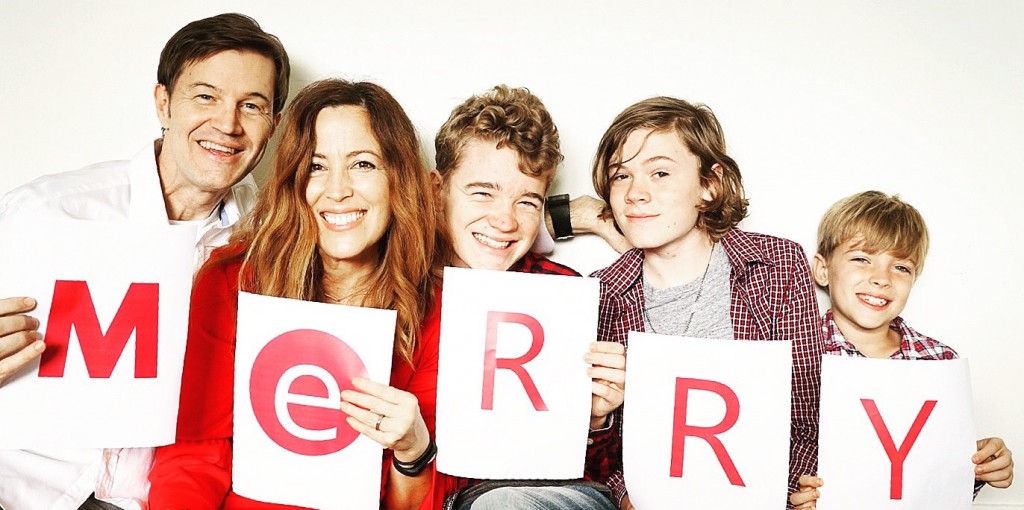 Steve, Michelle, Aidan (16), Jude (14) and Zephyr (9)