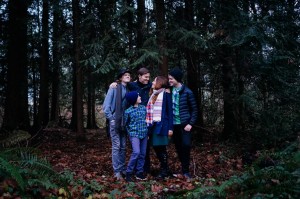 Romans 8:25
Dear friends,
What a year we have had! Over the summer, we left our deeply rooted life in the Philippines to begin an entirely new chapter in Portland, Oregon. As I write, a fire is going in the fireplace, and the air outside is chill. An enormous fir tree, freshly cut, towers over our living room, and as I look over my laptop at the fire, I see feet propped up in cozy woolen slippers, and blankets folded nearby to ward off the cold.
We have an oak tree in our new front yard. I have delighted in watching it mark the passage of time, its leaves gradually turning and then falling, each day a seemingly different view. In the Spring we will have a new view again. Time has moved just as quickly amidst all of the change. We have all been busy adjusting. Aidan, Jude and Zephyr have courageously entered the American public school system, forging their unique paths in the sea of students and opportunities that are now here. Steve is familiarizing himself with our beautiful new community. There is much to learn. I have attempted to keep up, meeting people continuously, researching constantly and using google maps on an almost hourly basis. But none of the rushing can significantly speed up what promises to be a slow and steady work of letting roots grow and relationships deepen. Letting go of the past is no less compliant to our desired schedule. Neither process can be rushed. As it turns out, it takes decades for oak trees to mature. The boys, raking leaves for the first time, turned up dozens of acorns, a feast for our neighborhood squirrels. It took our tree at least thirty years to produce the kind of crop we encountered on our lawn this Fall. Similarly, it will take time for us to establish ourselves here. Patience, then, is what I seek in the Christmas story this Advent.
When we worship the babe in the manger, we worship the promise he embodies with the benefit of hindsight. But my imagination this year is caught up with the intervening years; years between the birth and the beginning of his ministry that are apparently so unremarkable that entire decades are skipped over by our holy book. Aside from the trip to the temple recorded in Luke, we are left to imagine what Jesus' boyhood and early adult years would have been like. He and his parents stewarded the prophecies of the angels, and the worship of shepherds and kings through years of simple, unremarkable living. Between the promise and its fulfillment, there was simply faithful stewardship. How do we steward our promises, our hopes for the future? What do we do with the impatience and uncertainty that plagues us until we see its fruition?
Advent, of course, is a season of waiting not just on the Messiah's birth, but upon his return, a waiting that has been stewarded by believers for hundreds and hundreds of years. Romans 8 describes the stewarding of our hope like the hope of a pregnant woman during childbirth. I love Eugene Peterson's translation: we are enlarged in the waiting. We are enlarged because of hope regarding the ultimate outcome. And we nurture that hope with patience.
Many people I know are stewarding the promise through stormy waters this Advent, remembering loved ones, saying goodbye, dealing with poor health and difficult circumstances. Together with them, I'm practicing patience, living the daily, unremarkable hours that ultimately bring forth fruit. The oak tree on our front lawn and the Christ child in the manger caution me to be patient. Good and beautiful things take time. They, like him, are worth the wait.
Wishing you all a very Merry Christmas from all of the Ruetschle's!
Michelle, Steve, Aidan (17), Jude (15) and Zephyr (10)