From Michelle.  28 July, 2010  11 p.m.
Dear friends and family,
Five days have passed since I wrote, a seemingly inexorable flow of events.  Steve and I are riding the wave of it, as are our children, in their own way.  Today was, inexplicably, a more difficult day, and after spending a half an hour learning and not succeeding in putting on a pair of pants, in a rare moment of privacy, Steve wept for a moment on my shoulder.  He stopped himself quickly and when I encouraged him to continue, he said, "but someone will inevitably come in."  And someone did, a minute or two later.  That is the flow, the unceasing rhythm of the hospital.
I think we both are most often grateful for the lack of solitude, the flow of now-familiar nurses, therapists, doctors and attendants, and the constant details requiring our attention.  The daily tasks and interactions provide a warmth to the cold realities, and the details clothe our more intimate feelings.  And time passes.  Five days!
The stolen tearful moments are as precious as the breakthrough victories because they allow the fullness of the present to be felt, with a sorrow both bitter and sweet.  In four days,  however, the tearful moments have been few and the victories, in Steve's personal Olympic marathon, have been many.  A muscle here and a muscle there, beginning to "fire," as they say.  There have been many moments of wonder in these tiny promises of movement, often almost imperceptible hints, other times "Olympian".  In fact, the trajectory has been so very much in a positive direction that the occasional setback, whether physical or emotional, takes us by surprise.
But even this bad day had its sweet moments.  This afternoon, Aidan and Jude were dropped at the hospital by friends, and for the first time, perhaps since the accident, just the four of us went down to the cafeteria for a bite to eat.  Another friend had sent us some delightfully silly masks so Steve playfully challenged the boys to wear them down to the cafeteria.  He affected a British accent to accentuate the funny glasses and whiskers and soon the "professors" Monster, Monkey, Cockroach and Cockadoo were having an animated and very silly conversation in very poorly executed British accents!  I cannot lie: we triggered many a smile at the cafeteria today!  This is most often Steve's posture toward his situation: one of humility and good humor that makes all those around him smile!  He smiled a lot today, this bad day, and so did we.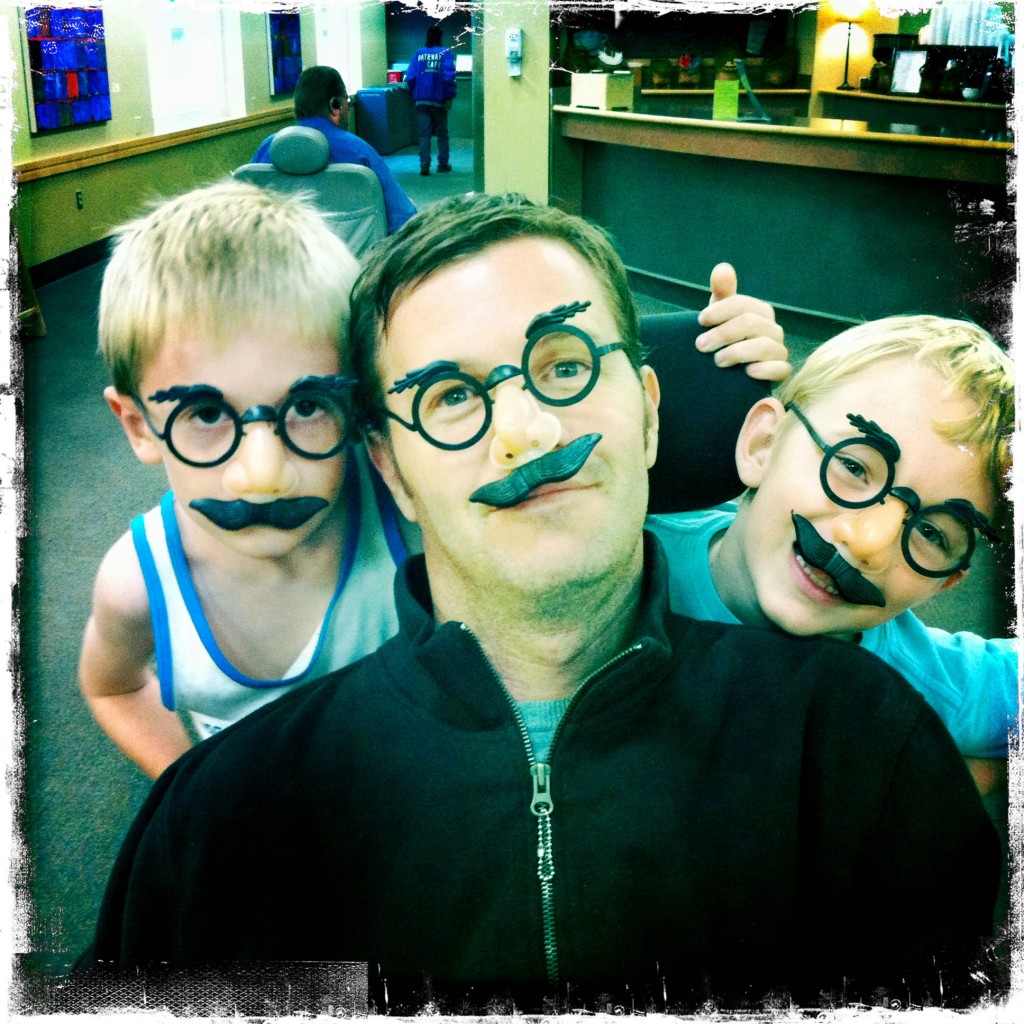 The writer Ann Lamott wrote: "I do not understand the mystery of grace — only that it meets us where we are and does not leave us where it found us."  As I think of the wave we are riding, I think this sense that we are being carried into a territory that will leave us profoundly and mysteriously and  – by grace alone – gloriously changed is the odd and unexpected sweetness that softens the bitterness of this sorrow.  When I say glorious I mean it in the strictest sense of the word glory, i.e. praise, worship, and thanksgiving offered to God.  There is a grace that is there for the finding in every moment of our every day.  And often, we find it.  It is mysterious.  It does not explain or change or erase what is painful.  But it changes us, when we allow it, with a strange sweetness.  My prayer is that we will continue to let it carry us to the places that we cannot yet imagine.
Please pray with us for that kind of glory.
Love,
Michelle