This following entry is from Steve's good friend Allen Wolf. August 25, 2010.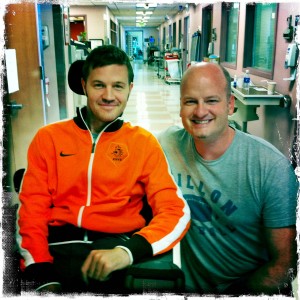 Steve is snoring softly in the background as I write this from the makeshift bed in his hospital room. It's more of a reclining chair than a bed but it does the trick. The night before I flew up from Los Angeles to see Steve, he asked me if I could spend a few nights at the hospital. He warned me I wouldn't sleep well. Every three hours a nurse comes into the room to rotate him in his bed and empty his urinal so it's impossible to sleep through the night. But I didn't mind. I was looking forward to it.
I've known Steve since I was eight years old and for a summer we shared apartments when we were both students in New York City. Steve helped me discover Redeemer Church in New York and drew the logo for my film production company. I never imagined we would be roommates again — in a hospital room! The constant joking and mischievousness we shared in our east coast apartment quickly returned at Harborview Medical Center. This morning we loudly sang bad love songs as the nurses got Steve ready for the day until the head doctor came in to ask what's going on. We were all soon laughing and trying to remember the words to "Bridge Over Troubled Water."
Years ago, we played a hilarious practical joke on a Blockbuster employee when I posed as a stranger and pretended to steal a video from Steve after he just checked it out of the store. Yesterday, I stood next to him in a drug store while his weakened hands couldn't flip open a simple top to a plastic bottle. "My life is very different now," he remarked to me.
The night before I saw Steve for the first time in the hospital, I had a dream that I saw him in his room and wept. I think that was my emotions trying to find an outlet. When I finally saw him in person, I was filled with joy that my dear friend was alive and vigorously working through his rehab.
Our first day together was a rehab mountain-top, which I captured on my video camera (see the video post below of Steve in the pool). Steve went into a pool for the first time and stood up on his own. Then, hours later, he was strapped into a machine and with the help of four therapists was able to step through the movements of walking. He was exhausted that evening and explained to me how the smallest exertion of his body can lead him to complete fatigue. We prayed together and he soon drifted off to sleep.
On Saturday, my wife and I looked after their kids as Steve and Michelle had a rare date together before Steve arrived to his home to stay overnight for the first time. The experience revealed how much they weren't prepared yet for the transition. At one point, Steve was trapped in a room for what felt like hours after one of his kids had inadvertently dropped a pillow in the room's doorway.
On Monday, I joined Steve back at the hospital where he explained the details of the weekend and how discouraging it was. We prayed and gave God the details – we needed the Lord to give insight for the right schools for the boys, equipment for the house, a longer hospital stay and much much more. By Tuesday, all the prayers had been answered. The boys will be starting in their new school soon (Kings school), the house is getting equipment and his hospital stay has been extended until sometime between August 28th & 31st.
Steve continues to break his own records in his rehab. On the bicycle machine yesterday, he broke the "2" resistance barrier for the first time, a huge accomplishment. He weekly increases the amount of resistance exercises he can do and how long he can endure them. Your prayers are being answered!
Steve compliments his caregivers constantly. "You're the best night nurse…" "You know just how to adjust my pillow…" "You're the best at stretching me…" Everyone around Steve gets showered with compliments from him and loves being on the "Steve team". His heart is exactly where it needs to be – reflecting the love of Jesus.
The challenges facing Steve & Michelle are daunting. One evening, Michelle told Steve "today has been like every other day. I have too much to do and not enough time to do it." In the center of the chaos, they cherish the rare quiet times they have with each other, connecting on the phone or eating a cafeteria meal at his bedside.
Last night, as Steve and I prayed together before nodding off, the words of James 1:1-4 came to mind "Consider it pure joy, my brothers, whenever you face trials of many kinds, because you know that the testing of your faith develops perseverance. Perseverance must finish its work so that you may be mature and complete, not lacking anything."
The aftermath of Steve's accident has produced a number of trials in their lives coupled with a strong sense of perseverance. Please join me in praying that Steve, Michelle and their family continue to experience Jesus as their energy, joy and foundation. While it's difficult to see Steve paralyzed, lying in his hospital bed looking immobile and helpless, it's assuring to know that the power of Christ's resurrection resonates in his bones and gives new life to his spirit and hope for his healing.