From Michelle.  23 July, 2010 9 a.m.
Dearest friends and family,
Only a few days have passed and yet so much has happened. Wednesday was a very big day.
For a long time, our therapists have mentioned that they would like to get Steve into a manual wheel chair. To both of us, this seemed like a lofty goal, especially considering the weakness in his right arm. On Wednesday, however, our physical therapist surprised us both by suggesting we give it a try.
The transfer itself is always tricky, but once Steve was sitting, he looked so natural. As he began to propel the chair forward with his arms, his face began to brighten, and his speed picked up quickly. Until then, I had not fully understood the difference or importance of the manual wheelchair. As I watched Steve moving by actively engaging his whole body, however, I saw life flowing forth in a way that was different. I suppose that for someone without leg function, this is the closest you can get to walking. After some practice in the gym, Steve did a "victory lap" around the unit. It was a beautiful sight. Forty minutes of manual wheelchair was enough exertion for a few days, but another day, Steve will try again… I look forward to the sight!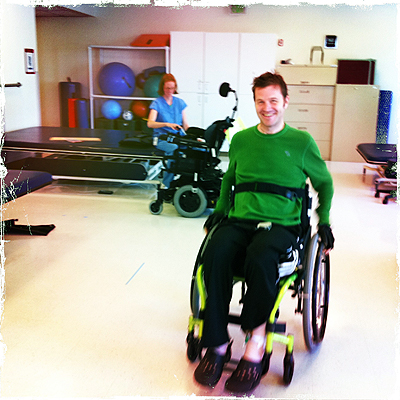 As if that was not enough, the recreational therapists had organized a small group outing to the zoo. Excursions like this are designed to teach patients how to get out into the real world again, negotiate sidewalks, use buses, experience wheelchair accessible vans, etc. The big boys had already been at the zoo all day with a church group, so they were already in the vicinity when we arrived. What joy it brought to both of us to see the kids' faces brighten when Steve rolled off the van and into their world! Steve had the bright idea to attach a kiddie cart to the back of his electric wheelchair, for the kids to sit in and be pulled along. It was a raging success. Zephyr and Jude sped along behind their Papa, big grins on their faces. Zephyr was especially ecstatic and spent most of our precious hour buckled in behind his Dad.
There was more good news that day. A wonderful man donated a wheelchair accessible van to us! We had known that he was considering it and were already amazed that he would give it a thought. But our amazement only grew when Steve's brother Mike sent a picture to us of the van, parked outside our house! These amazing acts of generosity continue to astound us at every turn, almost more than we can absorb. We are grateful for every one, big and small, beyond measure.
Steve is continuing to build strength, however he has been exhausted the last two days. Please pray for continued strength and "return" (the term used for return of sensation, motion and strength as nerves begin to fire up again). God has been so good in all of the details. Please continue to pray as we consider out-patient therapies, transitions and care support in the home, moving and schools.
My verses for today are from Psalm 42:7-8, 11: "Deep calls to deep at the roar of your waterfalls; all your breakers and your waves have gone over me. By day the Lord commands his steadfast love, and at night his song is with me, a prayer to the God of my life… Why are you cast down, O my soul, and why are you in turmoil within me? Hope in God; for I shall again praise him, my salvation and my God."
Your prayers make all the difference! Thank you!